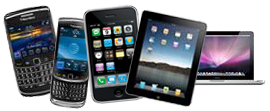 What We Do
So what do we do for you? We are committed
to giving you top dollar prices for your gadget.
Our recycling system is the safest and simpliest way to go green and get green in your hand.
How does this work?
Well, say for example, you just upgraded to the new iPhone 6 and now you have your old phone laying around, like a dead, unwanted battery. What do you do with the old phone? You have a few choices: You could trash the poor gadget. (Sad, unprofitable choice for you.) You could let it collect dust in the back of a drawer. (Meh. Boring choice.) OR! You could recycle it with CashitGadget.com and get paid! (BEST choice!) Our website will give you a top-dollar quote on the phone, leaving you utterly astonished and so ecstatic, you have no other choice than to send us your phone via a free box from us, or in your own labeled box. Once we receive your phone, we will promptly send you your money, just like that.
Whatever your story is, whether your gadget has a broken screen, or you just want to keep up with Steve Jobs' never-ending new gadgets, we are here to give you a happy ending to your hassels and a brighter future for your phone.
Start Selling
Our Story
In the beginning, CashitGadget was a small business idea lingering in the back of my mind. In 2002, I started testing out the idea as a side business. One day, while helping a customer sell their phone on eBay, a great idea popped into my head - why don't I give them cash for their phone? Customers began responding positively to this venture, and since then CashitGadget has grown into a system of easy recycling that gives you fast cash. Instead of taking the time and energy to list your phone on eBay and wait for someone to buy it, CashitGadget gives you the ease of simple and direct service.
Since nine years ago, the company has recycled thousands of gadgets and phones. Our business has grown by satisfied customers telling others about CashitGadget and like- wise, we trust you will be pleased with our service so much that you will continue this success story.

Joshua Paul Boram
CEO & Owner
CashitGadget LLC
Reduce, Reuse, Recycle
Electronic technology changes as fast as you can say "smartphone". Upgrades and advances are constantly evolving the way we communicate and compute information. CashitGadget realizes your need to stay current, yet we also see that these changes create electronic waste, which is harmful to our environment. According to cleanair.org, "only 10 percent of the 140.3 million cell phones retired in 2007 were recycled". This statistic is frightening to our future as we are needlessly filling our planet with unwanted, used electronic waste. Cleanair.org also says, "About 304 million electronics were disposed of from US households in 2005. Two-thirds of them still worked." CashitGadget is dedicated to reducing landfills by recycling your unwanted gadgets. "Recycling one million cell phones allows 35,274 pounds of copper, 772 pounds of silver, 75 pounds of gold, and 33 pounds of palladium to be recovered" Cleanair.org remarks. By using our services, you receive the satisfaction of conserving our planet's resources. Our promise is to give - to you and to Earth.
Related Videos
We're Verified!
Reduce
Reuse
Recycle

Get
Instantly
Paid!